Nick Ohde
Communications and Marketing Director
Nick joined PFI in December of 2014. He oversees all communications and marketing work for PFI, including strategy, brand, publications and our digital presence. He ensures that farmers are the voice of all PFI outreach. Before his current position, Nick led multimedia work for PFI, producing videos, podcasts and writing articles.
He grew up in rural southeast Iowa, outside of Wapello. He has a BA degree from the University of Iowa in 2008, where he majored in Journalism and English, and an MS degree from Iowa State University in 2011, where he majored in Sustainable Agriculture. His research interests focused on soil erosion, water quality, and the use of conservation practices.
From 2012-2013, Nick worked for a non-profit organization in rural Ecuador, where he worked with farmers, interns, and volunteers on rural community development projects. Before joining PFI, Nick worked as the kitchen manager at Cafe Beaudelaire in Ames.
Blog posts
By Meghan Filbert, Alisha Bower and Nick Ohde
Numerous studies show that continuous living cover – whether it's perennial pasture, diversified crop rotation with small grains and hay, or cover crops in a corn and soybean system – benefit many species of wildlife, from birds – whether they are hunted or non-hunted species – to insects to fish. Here are a few that we've come across as we seek to use peer-reviewed research to inform our thinking about keeping roots in the ground year round.
Are you growing rye or winter wheat for grain or seed this year? What's the plan after your harvest? If you're looking to add nitrogen for a 2019 corn crop, now might be the time to think about frost seeding red clover into that rye or wheat in late February.
The research is clear: if you can find a market for small grains, adding a third crop to your rotation yields economic, agronomic and environmental benefits. Iowa State University and Dr. Matt Liebman's research near Boone shows that corn and especially soybeans yield better when grown in rotation, soybeans have less incidences of disease, soil health metrics improve, erosion decreases and water quality improves – all this with equal returns to land and management.
You can learn more about Matt Liebman's research and many of the benefits of small grains production from other farmers in this video from our Rotationally Raised series:
You can also check out a farminar Matt hosted a couple years ago with Dick Sloan and his  presentation from the 2016 small grains short course at the PFI Annual Conference.
In Iowa, most of this research and most farmers' experience has been with adding oats and/or hay to their rotation. But now, with more and more people planting cover crops – and most of them planting cereal rye, more and more people have been raising it for seed. Saving a few dollars on cover crop seed is great, but the real opportunity comes after rye harvest when you can grow another crop.
Many people in that boat are planting multi-species cover crop mixes, and for farmers with cattle, that's tough to beat. A balanced grazing ration that likely includes a few protein sources and plenty of sorghum-sudan grass is a great way to save money on hay costs later in the year, and maybe be able to rest some permanent pastures in the fall so they'll produce better next year. Learn more about what farmers with livestock are planting after small grains harvest in this episode of Rotationally Raised:
Growing Your Own Nitrogen
But for row crop farmers, harvesting small grains during the summer presents a perfect opportunity to grow some nitrogen. It's something organic farmers have been doing for years to augment manure as a nitrogen source. However, most organic farmers either have hay in their rotation or grow oats, a spring small grain, and seed red clover with the legume/forage hopper of their drill at oat planting time.
But what about seeding clover into an already established winter small grain, like rye or winter wheat? Can you do it? "It's always worked for us," say Doug Alert and Margaret Smith, who own and operate Ash Grove Farm near Hampton in north-central Iowa. They've been frost seeding red clover into winter small grains for about the past 10 years, and have always managed to get a stand of clover established.
And, because they're organic, clover establishment is crucial: "We can't afford to have a failure because that's a major source of nitrogen for the corn crop," Doug says. Iowa State University research has shown that farmers can expect a nitrogen credit anywhere from 75 – 100 lb / acre.
Benefits of Red Clover
Dr. Bill Deen studies cropping systems and nitrogen management at Guelph University in Ontario, where winter wheat is a more predominant component of cover crop rotations. Many of his findings stem from a long-term crop rotation study started in 1980 that, among other configurations, includes a rotation with red clover frost-seeded into winter wheat ahead of corn.
"What's remarkable about red clover is you get the N credit while simultaneously increasing corn yields," he says – in other words, the clover provides additional benefits that increase yields above and beyond its contribution to nitrogen, a phenomena known as the rotation effect. "We're not quite sure what the mechanisms are. Certainly it does add N to the system," he says, "but it also seems to improve the use of N by the corn crop," Deen suspects that it may have something do with how clover affects the soil.
The other advantage of red clover over other cover crops is that the nitrogen release pattern works well ahead of corn. "It seems to have an effect on soil nitrate that is very favorable when you look at the pattern of demand by corn," he says. Radishes, for example, may release the nitrogen too early, and rye might hold onto it for too long. "Red clover is the most consistent supplier of nitrogen," he says.
Bill will be hosting a farminar talking all things red clover on Tuesday, February 6, 2017 at 7 p.m. Make sure to tune in – check out the spring line-up here!
Red Clover in Practice
Two challenges to working red clover into a winter small grain system are planting and terminating. For planting, Dr. Deen agrees with Doug and Margaret – as soon as the snow is off, but the ground is still frozen, it's time to frost seed. "Going from impassable snow to mud is often a very short time frame," Doug says, "So you have to be ready to go when you hit that window."
*If you're interested in learning more about frost seeding, mark your calendar for our February small grains shared learning call on
 Friday,
February 2 Noon-

1 PM.

 
The call will focus on frost seeding & underseeding legumes with a small grain. We'll hear from farmer Tim Sieren of Keota and Keith Kohler, research tech for the USDA's small grains and green manure studies conducted in Ames. We'll discuss:
Ideal frost seeding conditions;
Equipment;
Selecting clover varieties for frost seeding and your management goals;
And which legumes should be planted instead for best effect.
To join the call dial 641-715-3620 and enter the passcode 357330#.
Frost Seeding Red Clover in Iowa
Actually doing the seeding isn't that tough. Iowa State recommends broadcasting 10-15 lbs/ac onto frozen ground and the seeding method is likely going to be dictated by what equipment you have available. "I like that you don't have to have a top of the line system for it to work," Margaret says. When they first started seeding red clover into rye, Doug used a 3-point mounted fertilizer spinner, and that worked okay – he could cover a 20-25 ft. swath. Later, he switched to a grain drill and just used it as a drop seeder, but that was only 15 feet of width, and trying to cover a lot of acres quickly is tough on a drill.
So last year, he built a toolbar specifically for seeding red clover – it adds seeding capacity, and it also links into his auto-steer, which is important because he's doing a lot of this seeding at night, when the ground is nice and hard. His setup – shown in the photo – is a Gandy Orbit-Air seed hopper mounted on a used sprayer boom with a hydraulic metering system.
With this setup, he can seed 40 acres between fills and because he can drive 7-8 mph he can cover around 20 ac/hr. "This is all very important because of the small time window," he says.
And, some years, the window is too short, and they don't get a chance to frost seed. But they still seed it, even if it's a little late, and haven't had a failure so far. And that's not necessarily intuitive. "Clover's low-light tolerance is phenomenal," says Margaret, "To me, it looks like it should never survive," when looking at the thick blanket of rye that soon covers the clover, but adds that they've never had a problem getting a stand of clover established.
Red Clover Termination Before Corn
Once it's seeded, there's little management of the clover between seeding time and termination prior to corn planting. And because Doug and Margaret are organic, herbicide termination is not an option. Instead, they have traditionally plowed the clover as soon as they could in the spring; likely right after oat planting is done. They've been debating whether the plow is the right option for termination – or whether a lighter tillage pass would be sufficient – and whether spring or the previous fall is the appropriate time to terminate.
For conventional farmers, light tillage and plowing are still options, but termination with herbicide can also do the job. Penn State University Extension – where red clover is more commonly used as a cover crop – has some good guidelines. They recommend the following: "An excellent herbicide program to terminate a red clover stand prior to planting corn is one pint of 2,4-D LVE and one pint of dicamba (Banvel or Clarity). Apply 2,4 D and/or dicamba 7 to 14 days prior to or 3 to 5 days after corn planting if corn seeds are planted at least 1.5 inches deep. Do not plant soybeans after dicamba application. Applying 1 to 2 pounds per acre of atrazine will help provide additional control of the red clover. Glyphosate or paraquat alone are not recommended to kill a legume such as red clover."
Red Clover Green Manure Resources
Practical Farmers of Iowa continues to conduct on-farm trials on the usage of red clover as a cover crop. PFI members have conducted research on many of the topics discussed in this article, from comparing red clover to mid-summer-planted mixes, to the nitrogen value of red clover, to interseeding clover into winter rye, and much more. To find the results of these trials, check out practicalfarmers.org/research-reports and search for "red clover."
Here are a few:
Underseeded vs. Mid-Summer-Seeded Green Manures for Corn (2018)
Effect on corn of green manure cover crops established with cereal rye seed crop (2017)
Corn Following Green Manure Cover Crops Established with Small Grain (2015)
Timing of Nitrogen Supply to Corn from Spring Terminated Red Clover (2015)
Green Manure Cover Crops Established with Small Grains (2014)
Nitrogen Replacement Value of Red Clover (2014)
Interseeding winter rye with red clover (2014)
Establishing Red Clover, Hairy Vetch and Turnips at Last Cultivation of Corn (2010)
Iowa State University also has a good production guide on using clover with winter small grains: "Intercropping Winter Cereal Grains and Red Clover" (PM 2025).
In my article for the latest issue of the Practical Farmer, our quarterly newsletter, I focused on buckwheat (Fagopyrum esculentum), some of the farmers who grow it, and its culinary uses. Many farmers grow the crop as a cover crop, because it's pretty easy to grow, can suppress weeds, and research has shown it can also make soil phosphorus more available to subsequent crops. But buckwheat is also a delicious food: its groats can be eaten whole or it can be milled into flour.
One of the PFI members I talked to was Peter Kraus, who is originally from Decorah – where his parents Barbara and Kevin run Canoe Creek Produce – but now lives with his wife in northern Wisconsin where they teach environmental stewardship. He says that their long-term plan includes moving back to Decorah to farm and teach farm-to-table education, build support for growing and using small grains in the area, and building soil and setting down roots. He sent me his recipe for buckwheat sourdough bread, which includes buckwheat groats and flour. Enjoy!
Peter's Buckwheat Sourdough Bread Recipe (adapted from Tartine Book No. 3)
For 1 loaf of bread:
200 g sourdough starter or leaven
350 g organic bread flour
100 g organic whole wheat flour
50 g buckwheat flour
300 g water
50 g yogurt, sour creme or creme fraiche
10 g salt
100 g toasted buckwheat groats
Optional ingredients: toasted walnuts, maple syrup, dried fruit.
First, I mix the sourdough starter or leaven with the flour and half of the water to form a dough and then let it sit for up to an hour. While I am waiting, I bringing the rest of the water to a boil and pour over the toasted groats to soften them.  Once the groats have cooled, I thoroughly mix all the remaining ingredients together.
I let the dough ferment  in a closed plastic container for several hours depending on temperature and strength of the starter. Every hour I wet my hands and stretch and fold the dough on itself four ways.  Once the dough is billowy and bubbly I shape the loaf on a floured surface. I I preheat the oven to 450 to 500 degrees Fahrenheit. I place the shaped loaf into an enclosed baking vessel  like a dutch oven or a bread pan with a sheet pan over it, and let it rest for 15 minutes. I scratch the loaf surface with a razor blade or sharp, serrated knife to score it. Then bake for 20 minutes before removing the lid to let the loaf brown up. Finish baking for about 20-30 minutes more at 400-450 degrees.
On September 7th, the Canfield family hosted a field day on their farm near Dunkerton in northeast Iowa. A few years ago, the Canfields decided to make a big change on their farm: they shifted from producing conventional corn and soybeans for the commodity market to raising non-GMO corn and soybeans along with oats and hay. They also started an on-farm feed business and direct-market much of what they raise through that business.
The Canfield farm has been around a long time. I interviewed Earl for our video series on small grains production, Rotationally Raised, that we released on YouTube earlier this year. Before we started the interview, Earl ran inside and changed into a shirt the family had made last year in honor of the designation of their farm as a Heritage Farm – meaning it had been around for 150 years. The family proudly wears these shirts at any event related to their farm, and keeping it going for generations into the future is clearly a big reason they do what they do.
"The way we're farming now, it's been a wonderful thing for our family. When we were just raising corn and soybeans, the opportunities for our kids to get involved was very limited," Earl says. He says now, the kids are all directly involved with the day-to-day operations of the business. "We are trying to create some new, viable business opportunities for my children and my grandchildren and however many generations we are privileged to have on this land."
"I feel better about farming than I have in my life," Earl says, "doing the things we're doing now, learning how to do new things. And of course, a lot of what we're doing, it's not really new. My grandfather's generation, what you see here was really common on farms all over Iowa."
He thinks that if we had more diversity on the landscape, everyone would benefit: "I think if more, little, nobody farmers like us could find a way to do this type of thing all over the state of Iowa and all over the Midwest, it could open up a whole new way of doing business that would benefit everybody," he says, "then you could have farms everywhere that have got a healthy mix of crops growing thats better for the land, better for the water, better for the air, and just better for the economy. I see a lot of pluses and very few negatives there."
For people like him to be successful, he thinks that farmers are going to need to get better at direct marketing their products, but its worth the while. "We have to find more people willing to think differently and act on it, but we need customers. We need farmers that are willing to talk to and engage the customers. We do that all the time on our farm here, and the rewards are immense."
Oat Production
"Three years ago, if you would have looked at the equipment line-up on our farm, it was all geared at producing one thing: corn and soybeans," Earl says. "All the equipment we owned, that's all it was good for, just raising row crops."
One of the barriers to adding small grains and hay to a row-crop operation is finding the equipment. You can find big equipment, and that works if you have a larger operation, but Earl farms around 300 acres, and has around 40 acres of oats on any given year. He says a smaller, pull-type swather is a good example of that. "A swather is a good tool to have, but they're really hard to find. Maybe if enough farmers start raising small grains in Iowa that will change. I don't see John Deere or anyone else lining up to start selling these in Iowa yet. But maybe we can be part of something new there."
One thing Earl likes about small grains are that they spread out the workload on the farm. "It's really nice going into the fall that the entire farm doesn't have to be combined between the first of October and the first of November. It's nice to get some of the work done in the summer when the weather's warm and nice." It spreads the planting load out too, because you're planting a month or more before corn and soybeans; both of these things mean you can get by with a smaller planter and a smaller combine. "It just makes your life a little easier, a little less stressful," he says.
While there is some new equipment that's helpful to have, other equipment just requires you to know how to use it in a different way. "Other than getting this [pickup] head, I didn't have to do anything different to this combine. All the settings for harvesting these small grains are right in the operating manual," he says, "We've just learned how to use it."
Of course, there are lessons to be learned. He has a 1992 John Deere 9400, which is a conventional combine with a cylinder and beater. The first year he combined oats, he had some problems with plugging. "We were just plugging up something fierce. I remember the first time it happened, it just killed the combine instantly," he says. They realized the separator was plugged and Earl looked up in the operator's manual to see if there was anything they could do except for to keep digging it out. "Turns out there are two positions for that beater. You can drop the beater down and open the throat up a little more. It might plug once in a while, but you can always get the plug out without opening the combine up and getting the plug out by hand."
Hay Production
"Like oat harvesting equipment, not a lot of hay harvesting equipment to be found, especially if you want to make small square bales," Earl says. And, he is interested in producing quality hay. In his case, he's not producing a commodity, he's selling in small volumes to individual people, and that means that quality is very important. The tools he has reflect that. Last year was the first year he direct marketed large amounts of hay, and he's been scouring the internet, Craig's list and auctions around the Midwest, and has put together the basics. For a mower, he went with a 2011 New Holland H7230. His first hay crop he had custom harvested with two different mowers, one with a sickle mower and one with a disc mower like the New Holland, and he decided he needed a disc mower for harvesting lush hay.
In addition, he also bought a tedding machine – for being able to fluff up wet hay, or even to cut down drying time on newly cut hay – and a rotary rake. "One nice thing about a rotary rake like this is that you can manage the tine height so it's just above the dirt but it's getting all the hay, then you're not getting dirt and corn stalks up in your hay. It allows you to keep it clean, and it's fairly gentle, so you can gather hay that's in a windrow and still maintain many of the leaves, and most of the quality of the hay."
For a baler, he bought a Heston in-line baler. "I'm really glad we bought this, it makes really nice solid square bales that don't easily mushroom on you and go out of shape," he says. He also found a hay rack with bale thrower racks with an automatic conveyor. "I didn't want to get a baler that had a bale thrower on it, but we thought it might not be a bad idea to have a fence around it if we were going to be having our kids helping out once in a while," he says, "Safety is a good thing and we think a lot about that." In addition to the rack, he found a 40 foot long hay conveyor. "If you're going to make a stack of hay any taller than your hayrack, you need to have one of these," he says.
"These tools allow you to work with the weather, it gives us a lot of flexibility, we've found. They've been well worth the money we have in them," Earl says about the hay equipment.
Direct Marketing and On-Farm Feed Business
He said that as he started selling bags of oats and corn, customers started asking for feed. Right after they launched the website, advertising that they could bagged grain, a customer called and said that she would like to buy feed for her sheep, horses and chickens. She came out to the Canfield's farm, visited with them, and said that if they started a feed business, she'd buy from them. In turned out that there were many more customers who felt the same way. The Canfields spent the next few months promoting their business. "If we were going on a trip somewhere, coming back, we stopped at every convenience store between here and there to hang up a bunch of cards on their bulletin boards, that's kind of how it started," Jane Canfield says.
They don't do medicated feed or use preservatives, so they are essentially making all "mill to order" feeds. "We don't grind feed and let it sit on the shelf for six months, we work with people," Earl says. It's less of a hassle, but that more natural product – a "marriage of non-GMO grains and organic supplements" as Earl calls it, is what their customers want. He says the business is growing, and there's a lot more out there if they can expand their production capabilities. Because the feed isn't organic, the Canfields can offer it for a bit cheaper than organic feed, but because it's locally grown, and uses organic supplements, they can charge a premium. "We've got enough customers that come back to us even if we're not the cheapest thing in town because they know that we're trying to produce a good quality product and they're willing to pay for that," Earl says.
A few of the pieces of equipment they bought to get started.
* 10,000 lb platform scale, legal for trade scale
*Bagging hopper, bagging scale
*10 new pro boxes (great for grabbing 40 or 50 bushels of corn or soybeans, and keeps the mice out, says Earl).
*Clipper fanning mill. Earl and Jane's sons Matthew and Andrew modified the cleaner to increase the rate at which they can clean seed.
*Roller mill and small hammer mill mounted on a trailer
Jane Canfield says that if you want to make direct marketing work, you have to be willing to invest the time and effort into its success. "The marketing part of it is huge, it's a lot of work. If you're not good at, find someone who is that can help you," she says. She handles all of the branding and design for the farm – business cards, website, fliers, etc, but doesn't like to spend a lot of time talking on the phone, "So it works out well that he does," Jane says about Earl. "I couldn't do any of this without my family," Earl says, "this is a team effort all the way. I'm just very blessed."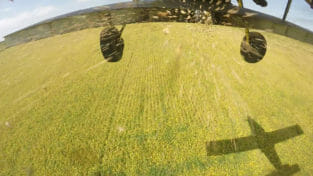 I had the chance to tag along to the Jefferson airport with the crew from Stott Aerial Spray and Bill Frederick of Iowa Cover Crop last week to shoot some footage for some upcoming cover crop videos we are producing. I cut together a little snippet, and thought some of you would be interested. For more info on where to find businesses to help seed cover crops, check out our Cover Crop Business Directory.
 I'm guessing most of you are done with aerial seeding, but should be going on the ground soon – drilling and air-seeding as the beans and corn come out. Good luck with harvest and fall cover crops seeding!
Did you know that PFI has a podcast?
Our first season just wrapped up – our first podcast is called On-Farm: Conversations with Practical Farmers – and we have 17 episodes available. Basically, these episodes are a 45 min – 1 hour conversation between me and a PFI member. This year, we focused on people who hosted field days, so if you missed a field day that you wish you hadn't missed, you might be able to find a pretty in-depth conversation with the host on the podcast.
But let's take a step back. Do you listen to podcasts? Have you heard a lot about them but never really thought they were for you? Ok well if you're in that boat, and like listening to the radio, you should probably get into podcasts. You can listen to pretty much any radio show for free in podcast form at any time.
Also, you can listen to many, many more podcasts that aren't available on the radio. Like ours. (Ok, you could actually listen to our podcast on the radio on KHOI 89.1 FM in Ames and Story City on Saturday mornings at 9 AM, but we're done with new episodes for the year).
How to Listen to Podcasts
Don't have a smartphone? You can still listen – go to our podcast page, 
practicalfarmers.org/podcasts
, and you can listen to individual episodes there.
Do you have a smart phone? If so, then the process is easy.
iPhone:
You open the Apple Podcasts app (it looks like this):
When you open this app, you'll see a search option at the bottom right corner of your screen. There you can search for whatever podcast you'd like, including "On-Farm". But to make it easy, you can just click 
this link
, and it will open your Apple Podcasts app to the On-Farm page. Our logo looks like this:
There should be a button on that page that says Subscribe. If you click on that, new episodes will show up on the feed of your Apple Podcasts app. This means that you can check for new episodes of your favorite shows at anytime just by opening the app – they'll be organized under the My Podcasts part of your app.
Android: 
There are many podcast apps, but probably the most popular is Stitcher (you can download it on iPhone too). There are a couple apps that you could use. The first is called Stitcher. You can download that from Google Play store.
It should look like this:
In Stitcher, search for On-Farm and click the plus sign (+), that'll add it to your Favorites List. Now go to the Favorites List.  You can have it download new episodes by clicking the gear in the upper right corner. Ready to go!
From the play store, another option would be Google Play Music. Go back to the Play Store and Add the Google Play Music App
Open Google Play, click search icon in upper right-hand corner. Here you can search for On-Farm. When you find the On-Farm logo under the podcast section, click it to open all episodes. From here you can scroll down and play any episode you'd like to hear or you can click the 3 dots under the logo and select subscribe. You will see a menu box open with options to auto-download, notifications, and playback order. Set these to your preference, helpful tip, if you select auto-download you will download episodes when on a wifi connection to listen at another time with your having to stream them. This is helpful when listening in an area with poor signal.
Once you get this figured out, check out the podcasts of some of our members and friends (and some that I'll surely miss). Let me know if you have a podcast we should be aware of!
Thanks,
Nick (Host of On-Farm)
We have the second video presentation up from last month's conference – "Rotationally Raised: Making Small Grains Work". This presentation is by South Dakota farmer Lee Brockmueller, who presented about how small grains benefit his crops, bottom line and livestock. His presentations cover all the basics of raising both winter wheat and oats, from variety selection all the way through harvest and marketing.
In case you missed our the video of the conference we released, of Dr. Pete Lammers of University of Wisconsin-Platteville talking about feeding small grains to livestock, here it is:
You can find PDFs of all of the presentations on our small grains page.
For the final episode of the first season of On-Farm, we visited the farm of Maria and Ron Rosmann of Rosmann Family Farms near Harlan. The Rosmanns have been instrumental in many of the most important agricultural movements of the last 30 years: They were pioneers in organic livestock and row crops, and were among the core of farm families that helped Practical Farmers of Iowa get off the ground in the mid 1980s.
Podcast: Play in new window | Download
Subscribe: iTunes | Stitcher | Google Play Music
On today's show, we'll talk about the history of their farm, their upcoming field day on September 9th, organic row crop and hog production, and the next generation – all three of their sons are working in agriculture, two of them on the family farm. You can check out a short video about their upcoming field day: https://youtu.be/zFtYCY2Ut7k  – or learn more in this press release.
This week on the show, we have Jamie Hostetler of Rolling Meadows. Jamie farms with his family near Bellevue in eastern Iowa, where they raise 100% grass-fed beef and sell Red Devon cattle for seed stock. In 2010, shortly after moving to the area, they seeded row crop ground down to pasture and have been practicing high-density grazing to regenerate the soil and produce gourmet-quality, grass-finished beef.
Subscribe: iTunes | Stitcher | Google Play Music
On September 16, the Hostetlers will be hosting a field day on their farm focused on all things grass-fed beef production. They'll talk production, from grass-efficient genetics, interseeding annuals to perennial pastures, and rotational grazing,  all the way to market – what a grass finished animal looks like when its ready for market. On today's show, we'll talk all things regenerative grazing and grass-fed beef.
This week on the show, we have Earl Canfield of Dunkerton in northeast Iowa. Earl farms with his wife Jane and their four children. Their children represent the sixth generation of the Canfield family to be on the land since the mid-1860s, for which they received a Heritage Farm Award at the Iowa State Fair in 2016. The Canfields are making a transition from growing strictly corn and soybeans for commodity markets to growing and direct marketing a diverse mixture of value-added products, including whole grains, mixed feeds, produce and eggs.
On September 7th, they'll be hosting a field day on their farm focused on all the things that it takes to grow and market oats and hay in Iowa. In addition, the Canfield Family has spent the last two years relearning how to grow small grains in Iowa. They have researched machinery, production strategies and varieties, in addition to seeking potential market streams. One opportunity is to direct-market small grains to small-scale livestock owners as either whole grains or as part of complete mixed feeds. We'll talk about that and more on this week's show.
Podcast: Play in new window | Download
Subscribe: iTunes | Stitcher | Google Play Music